Fabri Trak Systems, Inc
111 W. Park Drive
Mt. Laurel, NJ 08054
United States (US)
FabriTRAK® was invented in 1977 and quickly became the market leader in providing upholstered and acoustical wall treatments and finishes throughout the United States. Today, FabriTRAK® Systems Inc., headquartered in Cranbury, New Jersey, has an active licensed installation dealer network throughout North and South America, Europe, the Middle East, the Pacific Rim and Asia. In order to maintain our dealers\' competitiveness and offer the best visual and acoustic solutions to architects, designers, acousticians and their clients, FabriTRAK® maintains an aggressive research and development program to create innovative tools and products, such as the new line of .75 inch (19mm), 1.25 inch (32mm) TRAK®, and BIO-TRAK. Bio Trak evidences FabriTRAK® Systems, Inc\'s environmental commitment by developing and manufacturing a line of FabriTRAK® that is biodegradable in landfill conditions. Along with our recycling and reclamation program, FabriTRAK® Systems, Inc. is leading the way to enabling sustainable fabric covered wall and ceiling panel systems. Our research & development programs are a direct response to the needs of the interior finish marketplace. We have heard the needs of our clients and dealers around the globe and we are making an active commitment to go \'green\'. BIO-TRAK offers the client limitless creative designs in an acoustically sound environment, both inside and out. FabriTRAK® performs rigorous trials and tests of each profile prior to bringing it to market; each profile meets our exacting standards of dimensional tolerances. We ensure that the fit and finish of each and every FabriTRAK® wall and ceiling panel installation is perfect!The Sound SolutionIn today\'s world, acoustics are playing an ever more critical part in the design and construction of interior spaces. FabriTRAK®\'s diversity allows it to meet an acoustical consultant\'s exacting specific demands and criteria for a project. This can be accomplished by using a a variety or combination of available or specified substrate materials and fabrics to achieve the acoustical balance needed - either reflective or absorptive. Furthermore, because FabriTRAK® is assembled on-site, the project\'s acoustical consultant may \"fine tune\" the profile design in order to ensure the performance characteristics of the room. These delicate adjustments help make FabriTRAK® the \"Sound Solution\" in interior finishes.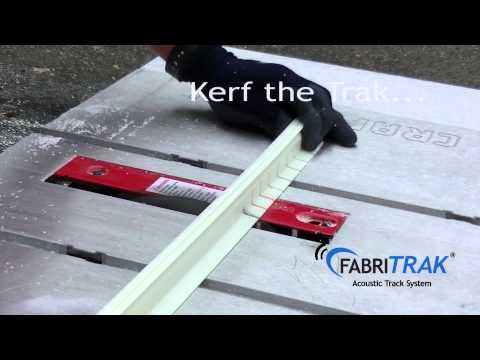 Click here to submit an RFP to all vendors in our directory. To list your company in our directory go to our subscribe page.