Peerless-AV
2300 White Oak Cir
Aurora, IL 60502
United States (US)
At Peerless-AV, we consider a solution to be more than the product itself. A true solution encompasses how the product is made, how it gets to you and the service you receive. We devote care and attention to every element of our AV solutions so we can fulfill the sum total of your needs.For proof of this commitment to complete solutions, look no further than the lasting relationships we've built with our customers, distributors, resellers, integrators and end users alike. People choose to do business with us not only for the quality of our products but also because we've proven to be a valuable partner, making their jobs easier through every step of the process.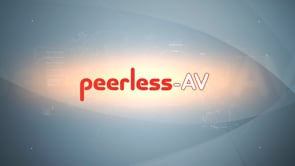 Here at Peerless-AV, we are looking for the best of the best to create top of the line audio-visual technology. People who will market, support…
Peerless-AV®, a leading designer and manufacturer of innovative audio and video solutions and accessories, is pleased to announce its showcase at InfoComm 2022, June 8-10…
Click here to submit an RFP to all vendors in our directory. To list your company in our directory go to our subscribe page.