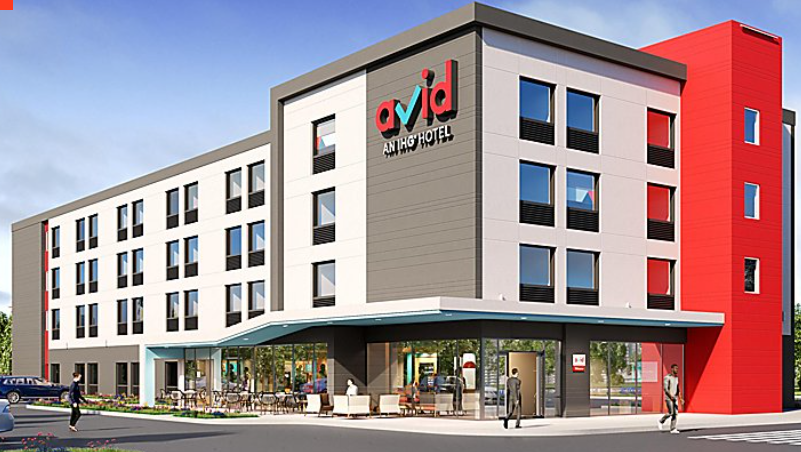 REVERE, MA, December 15, 2020 – Last week, the grand opening of the very first avid™ hotel property in the state of Massachusetts, avid hotel Boston Logan – Revere, was unveiled with eager enthusiasm, flourishing resilience, and anticipated success. The event offered a glimpse into the recovering hospitality industry – a stark account of the tenacious spirit and commonality optimistic owners and builders alike have moving into the new year.
Ketan Patel, Owner of Revere Hotel Realty, LLC in partnership with Buffalo-based Eastern Hospitality Advisors, an award-winning, fourth-generation hotel and commercial construction management firm, announce the grand opening of the 104-room avid hotel by IHG Hotels & Resorts in the city of Revere.
"Our team is pleased to have completed the construction of the first avid hotel in the State of Massachusetts, for the Owner," said Eastern Hospitality's CEO and Partner, Shane Vanstrom. Over the past few months, despite the notion of uncertainty that we have all experienced in the hospitality and construction industries, we were still pleased to work diligently to complete the avid in good time and within budget. We can offer confirmation that we are still seeing a fair amount of hotel and business owners, looking to build or renovate. We are proud to have been selected to build the hotel, as well as five other ongoing projects in the northeast region."
Located at 405 American Legion Highway, the five-story avid hotel is situated in close-proximity to Boston Logan International Airport. The property features contactless guest check-in, free high-speed Wi-Fi for guests through IHG Connect, complimentary grab-and-go breakfast, 24/7 fitness center and large, and multi-purpose areas in the lobby which can be used by guests for work or relaxation. "We were pleased to work with Ketan on this project and we have no doubt in the success of this hotel under his ownership," said Vanstrom. "We wish him the best as he opens a hotel that caters to not only what travelers have been asking for, but also offers an open and vast workspace, perfect for the remote-working conditions we are experiencing." Spacious guestrooms offer large windows for maximum natural light, modern open-storage and walk-in showers. A convenient marketplace offers necessities for guests.
"We congratulate Revere Hotel Realty, an affiliate of Bijal Hospitality and the other partners involved in this project on the opening of the first avid hotel in Massachusetts," said Mitchell Salaman, Vice President, Development, IHG. "One of our newest brands in the mainstream category, the unique avid hotels experience is resonating with travelers and we believe this property will thrive due to its proximity to one of the country's busiest airports, major roadways and area attractions."
Launched in 2017, avid hotels has grown rapidly with more than 200 new hotel properties signed since launch and new properties under construction across the US, Canada and Mexico. The brand is purpose-built and offers the type of hospitality its guests value most – the essentials that make a difference and experiences that feel just right, every time. Guests at avid hotels properties can expect a superior guest stay, including a great night's sleep, a grab-and-go, complimentary breakfast and seamless technology.
While visiting an IHG hotel, guests and hotel staff can be reassured that cleanliness is top of mind throughout each step of the on-property experience. The company's longstanding commitment to rigorous cleaning procedures includes the IHG Way of Clean program developed with Ecolab and Diversey, both world leaders in hygiene and cleaning technologies. The program, initially launched in 2015, features deep cleaning with disinfectants coupled with enhanced COVID-19-specific protocols and best practices, developed with experts from the Cleveland Clinic. Additionally, as a part of the IHG family of brands, avid hotel Boston Logan Airport – Revere offers guests additional peace of mind with the IHG Clean Promise. Guests can be reassured that their room will meet IHG's high standards of cleanliness, and if not, the hotel will make it right.
The new avid (an IHG hotel) conveniently located nearby Boston Logan International Airport.
Eastern Companies is a full-service parent company to development, construction, procurement and hospitality related service subsidiaries active throughout Western New York and the United States. Headquartered in Buffalo, Eastern offers turn-key contracting services. As the preferred construction concierge, Eastern approaches each client with dedicated passion, unmatched talent and an international cultural understanding to help clients build success. Eastern Companies has been built on a foundation of trust, reputation, experience and financial stability. Trusted for 36 years, Eastern Companies is known for its expertise, spanning commercial construction and development industries. For more information, please visit: eastern-companies.com