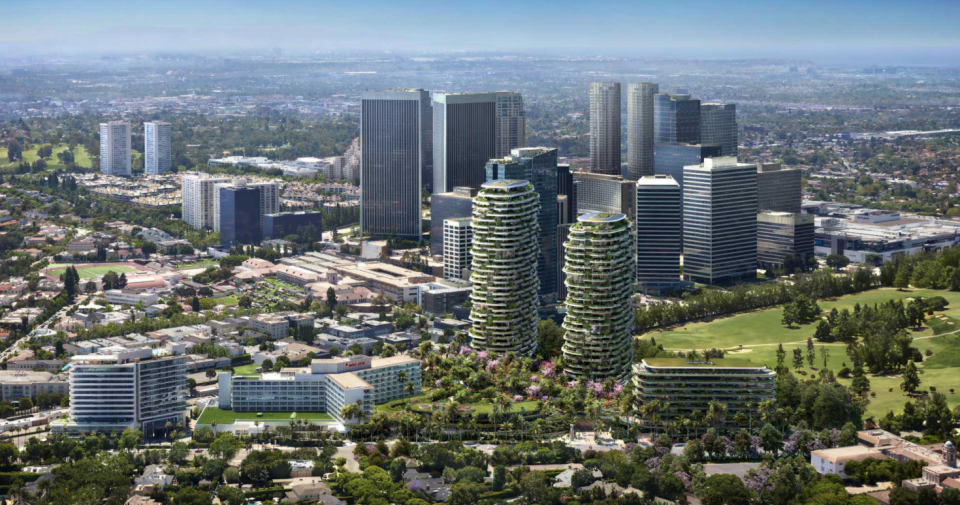 A $2 billion condo and hotel project is planned for Beverly Hills, California. One Beverly Hills is a 17.4-acre project site that would include two residential buildings comprising 303 units, a luxury hotel with 42 guest rooms and 37 for-sale condominiums, 35,236 square feet of restaurant and retail space, 2,1794 subterranean parking spaces, plus 10 acres of public and private open space.
The project is being designed by architect Norman Foster of Foster + Partners. Design firm RIOS is the landscape architect. Approximately 4.5 acres of the botanical gardens would be publicly accessible, while the remaining 3.5 acres would be reserved for residents and hotel guests. Each component of the landscape design would contain one mile of pathways.
The two new residential towers would be known as the Santa Monica Residences (32 stories) and the Garden Residences (28 stories). The luxury hotel and condominium complex is referred to as the Wilshire Building in the report and would be approximately 124 feet in height. A multi-level promenade would connect the three structures and house resident amenities.
The Beverly Hilton site would undergo changes as well, seeing the demolition of the existing Beverly Hilton conference center, the 181-room Oasis Building and a parking structure adjacent to Santa Monica Boulevard. These buildings would be replaced by a brand new conference center with restaurants, retail and meeting space as well as proposed commercial uses, including a boutique food market, retail and dining, and 36 poolside hotel rooms. The Beverly Hilton's Wilshire Tower and the existing Waldorf Astoria Beverly Hills would remain intact. 
Alagem Capital and Cain International are the project developers. If approved, the project could begin construction in late 2021. Construction is expected to take 50 months to complete and the first residential move-ins could begin as early as 2026.
For more information on this and other upcoming hotel construction and renovation projects in the planning, design, pre-construction and construction phase including who is involved and their contact information and Preferred Vendor Directory please visit: 
HotelProjectLeads.com
 and subscribe today.