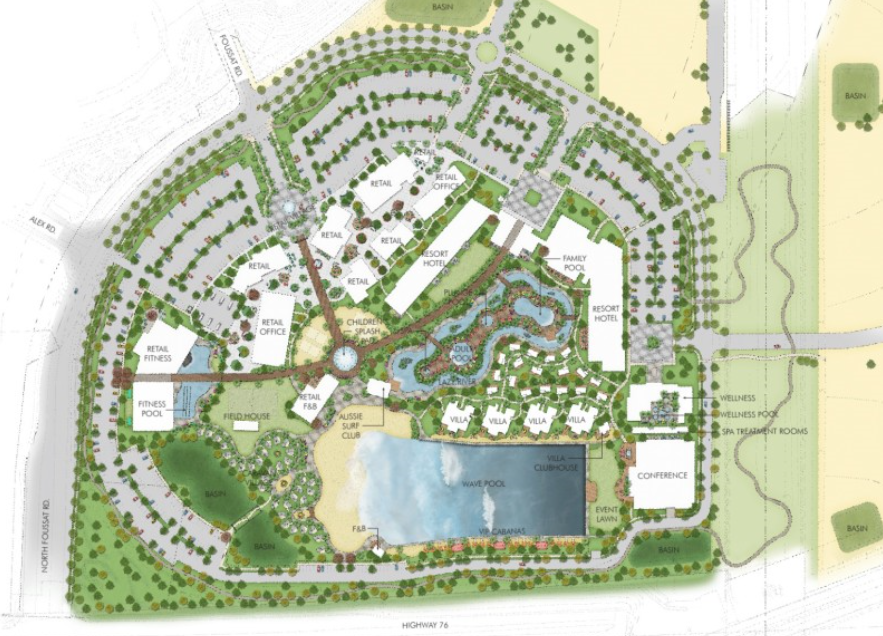 Property developer Zephyr submitted a plan this week for a hotel, homes, offices, retail stores and outdoor attractions including a wave lagoon for surfing on the old Oceanside Drive-In Theaters property. The property is just east of the city's airport along the San Luis Rey River, north of state Route 76 and Mission Avenue, and a few blocks west of El Camino Real in Oceanside California.
Plans call for the hotel, a conference center, 100,000 square feet of retail stores and restaurants, 20,000 square feet of office space, the wave lagoon, and rock climbing walls, bike trails, fitness center, yoga pavilion, a spa and other commercial aspects of the project to be completed along with the first 200 residential units. Residential units also will be a mixture of types in attached buildings such as town homes, condominiums, rentals and branded units linked to the active-lifestyle theme of the development. About 20 acres of the property will be preserved as open space. The site will include bike trails and pedestrian paths with connections to the nearby San Luis Rey River trail and Alex Road Skate Park.
The company also is building the Solana 101 mixed-use development on Coast Highway in Solana Beach, and is working on approvals for a resort hotel atop 16 acres of coastal bluffs at the northern edge of Del Mar. The Del Mar plan will include a 65-room hotel, 31 villas, a spa, walking trails and gardens.
For more information on this and other upcoming hotel construction and renovation projects in the planning, design, pre-construction and construction phase including who is involved and their contact information and Preferred Vendor Directory please visit: HotelProjectLeads.com and subscribe today.