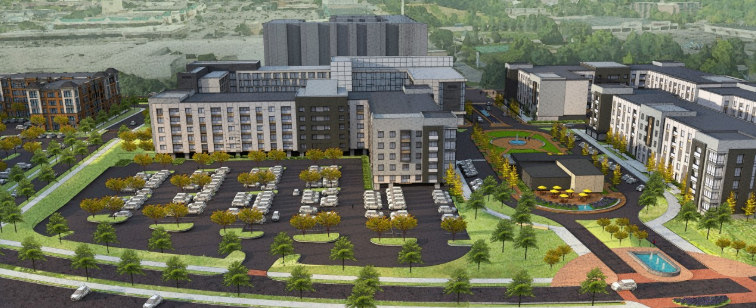 Continental/Ferguson Lansing, LLC and Concord Hospitality Enterprises of Raleigh, N.C., plan a dual-branded hotel – a Hyatt House and AC Hotel by Marriott that will be located at the new Red Cedar Development project.
The groundbreaking is planned for September 2019 with infrastructure work done first and the vertical construction following immediately. Located along the Michigan Avenue corridor next to the campus of Michigan State University, each hotel will stand six stories high. Together, the new hotels will include integration of smart devices and high-tech building management systems and several amenities such as 285 modern guest rooms, a 4,300 square foot ballroom with event and meeting spaces, a rooftop bar and restaurant with a 6th floor dining terrace, a ground-level pool with views of Michigan Ave and a 1,700 square foot enhanced 24- hour fitness center. There will also be an eating establishment on the ground floor.
Joel Ferguson and Frank Kass are the principals of Continental Ferguson. Continental Ferguson is investing over $250 million in the project. Mark Laport is President and CEO of Concord Hospitality. Construction on the hotels will begin in the summer of 2020 and are anticipated to open during the first quarter of 2022.
For more information on this and other upcoming hotel construction and renovation projects in the planning, design, pre-construction and construction phase including who is involved and their contact information visit: HotelProjectLeads.com and subscribe today.