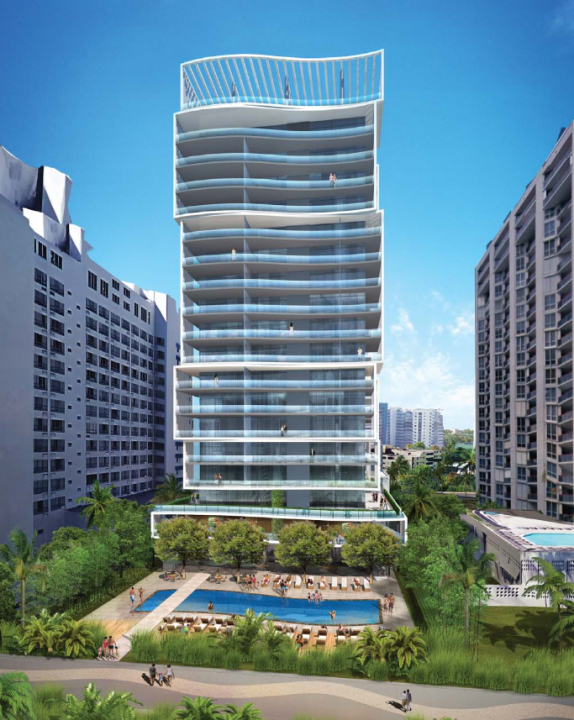 A lifestyle hotel will soon begin construction on oceanfront property at 6747 Collins Ave Miami Beach Florida, by hotel developer Urbanica.  The new hotel will rise 20 stories and include 200 rooms. It will include a signature restaurant by Chef Fernando Trocca, an indoor bar, pool bar and beach service.
Urbanica purchased the .98 acre property on August 27 for $40 million. The seller was China City Construction, which had planned luxury condos on the site.  Urbanica is also planning a hotel tower in the Edgewater neighborhood of Miami. The 200-room hotel will be called The Biscayne, and be built at 3200 Biscayne Boulevard, with views of Biscayne Bay. The hotel will have approximately 5,000 square-feet of retail space on the ground floor, a rooftop pool, restaurant, bar, game room and parking and an entertainment room on the 20th floor. Opening is scheduled for late 2020.  Urbanica's other properties include The Meridian, Regina's Grocery, Kaskades Hotel, The Euclid Hotel, and The Fifth. Urbanica has used Architect Shulman + Associates on its past projects.
For more information on this and other upcoming hotel construction and renovation projects in the planning, design, pre-construction and construction phase including who is involved and their contact information visit: HotelProjectLeads.com and subscribe today.