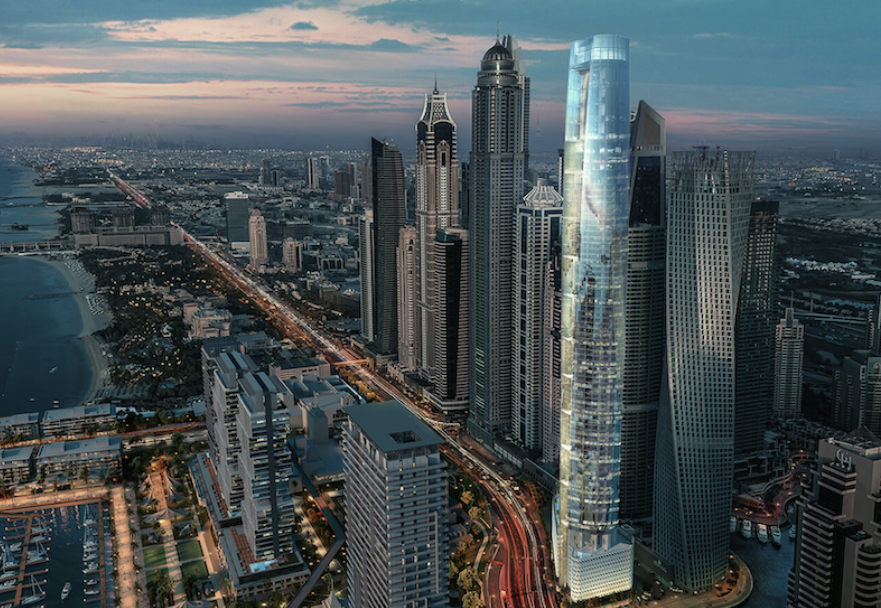 Developed by The First Group and designed by NORR. The currently under construction Ciel Tower and Marina in Dubai will become the tallest hotel in the world at a height of 1,181 feet. The curved forms of the building are meant to gently reflect in the setting sun while the design scheme emphasizes the verticality of the tower and is meant as a response to vertical living. The glass and metal hotel will comprise 1,042 luxury suites as well as serviced apartments. The building's crown contains a rooftop pool, a specialty restaurant, and an observation deck. Other amenities include a fully-equipped spa, a business lounge, laundry service, multiple restaurants, and a gym. The amenities are distributed vertically through the tower, each being accompanied by a sky terrace with views of the Arabian Gulf.  The project is anticipated to be completed by 2023.  For more information on this and other upcoming hotel construction and renovation projects in the planning, design, pre-construction and construction phase including who is involved and their contact information and Preferred Vendor Directory please visit: 
HotelProjectLeads.com
 and subscribe today.