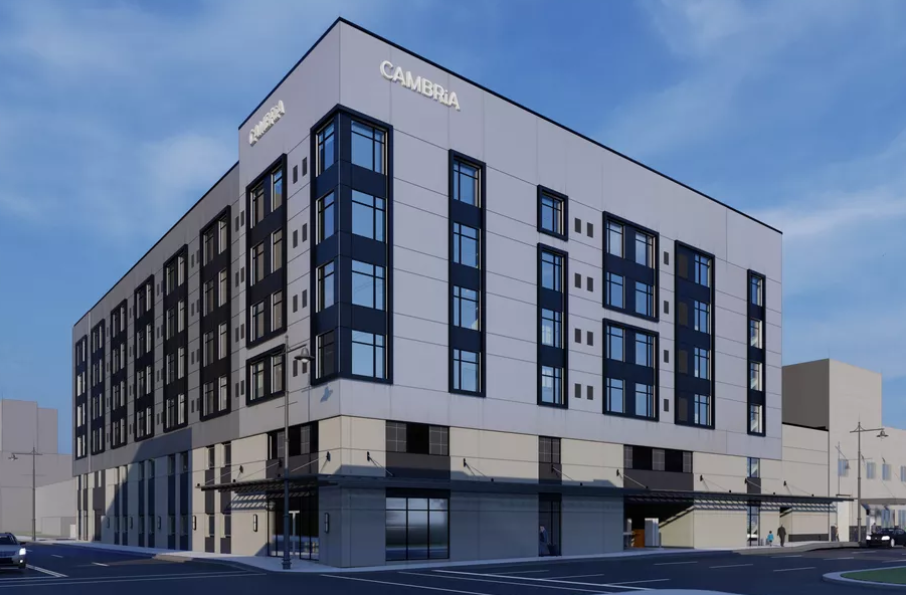 At the western edge of downtown Detroit, construction has begun on the Cambria Suites Hotel at 600 W. Lafayette Street. It will be a 158-room mixed-use building. In addition to the hotel, there will also be an upscale Italian restaurant, a rooftop bar, a grand ballroom, 60,000 square feet of Class A office space, new retail space, and a 150-car parking structure.
The project, is a mixture of rehab and new construction. The developers are renovating the 90,000-square-foot, Albert Kahn–designed former WWJ Studios building, which will house the office and retail space as well as some hotel amenities. The new 150,000-square-foot hotel, made out of modular components, will be constructed on a surface lot behind the building.
According to a release, it's the first modular development in the history of Detroit and the first new-build hotel in 15 years. Some of the old studio features will be preserved, including the lobby, old studio, and signage. The new building will also have thematic design elements that reference the WWJ building's original use.
The project is a joint venture between the Means Group and Holdwick Land Development, both based in Detroit. The general contractor is Troy-based Koucar Management and the architect is Royal Oak-based Krieger Klatt Architects. It's expected to cost $50 million dollars and open by the end of 2020.  For more information on this and other upcoming hotel construction and renovation projects in the planning, design, pre-construction and construction phase including who is involved and their contact information and Preferred Vendor Directory please visit: HotelProjectLeads.com and subscribe today.