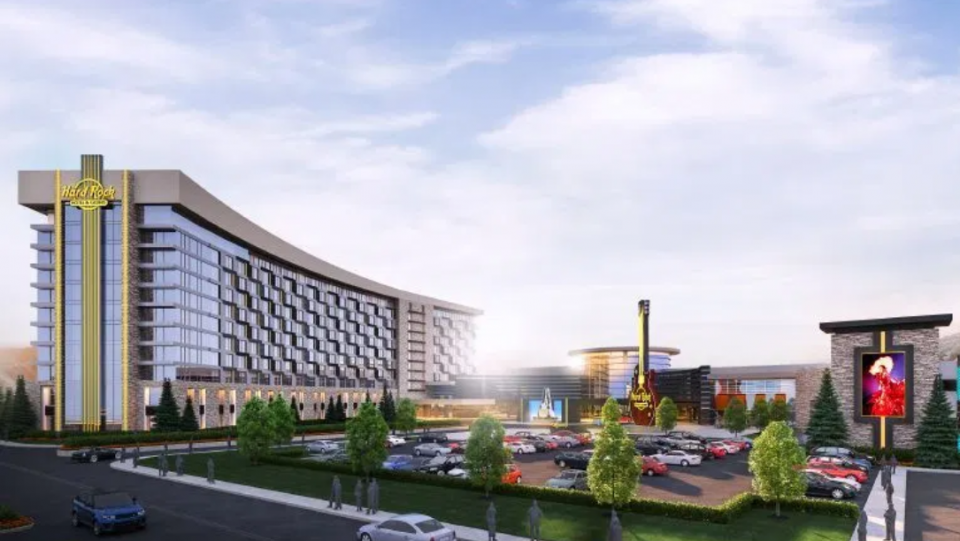 Developers in Kern County California plan to build a Hard Rock Hotel and Casino. The huge casino, concert and hotel complex proposed for a 300-acre site 14 miles south of downtown Bakersfield will be operated by the Tejon Indian Tribe and Hard Rock International, owned by the Seminole Tribe of Florida.
The project has been in the works for years, but an agreement was recently reached with Hard Rock to operate the facility. The proposed hotel-casino project is sandwiched between the Interstate 5 and Highway 99 split. The hotel would have 400 rooms, making it the largest in Kern County. The facility would also include a spa and fitness center, resort style pool, 13 restaurants and bars, the largest convention space in Kern County and entertainment venue.
Octavio Escobedo is Tejon Tribe chairman. The idea for this project started more than a decade ago. Tejon Tribal submitted paperwork to the Bureau of Indian Affairs in 2006 to regain federal recognition of her tribe. Last July, Las Vegas-based SCCR Tejon LLC purchased 306 acres of land for more than $10 million. 52 acres will be devoted to the hotel and casino, while 22 acres will be designated for an RV park. The remainder of the land will be designated for other tribal purposes including a health facility and housing.
The project is expected to bring 1,000 construction jobs and over 2,000 permanent jobs once completed with a payroll of $59 million annually. According to the Bureau of Indian Affairs, a rough draft of the Environmental Impact Statement and a formal date for public comment are set for later this year. There's no timeline on when the project is set to begin.
For more information on this and other upcoming hotel construction and renovation projects in the planning, design, pre-construction and construction phase including who is involved and their contact information and Preferred Vendor Directory please visit: HotelProjectLeads.com and subscribe today.