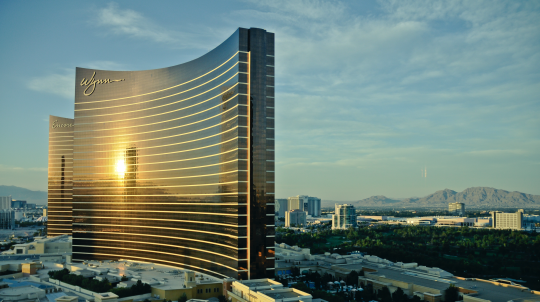 Graphic Encounter Fine Art provides Custom Art Designs, which are Professionally Printed on a variety of Substrates, including Fine Art Paper, Fine Art Canvas, Di-Bond Metal, Wall Paper Murals, as well as Public Area Sculpture.
Graphic Encounter Fine Art's In House, One-on-One Art Consulting services are provided to renowned Interior Design Groups and Architectural Firms, that specialize in the design of Guest Rooms / Guest Suites / and Public Areas of Hotels, Mega-Resorts, and other hospitality venues throughout North America.
Graphic Encounter Fine Art's Creative Director, David Jordan Williams, together with his Studio Artists, will speak to your design team and yourself directly. Our Design team will custom design, modify, and color-enhance imagery that will set your project apart. As your dialogue unfolds, your choice of substrate and frame shapes and colors will be identified quickly to complete your specifications.
Wynn Las Vegas, Encore at Wynn Las Vegas, Bellagio, Las Vegas – MGM Grand, Las Vegas – Paris, Las Vegas – New York / New York, Las Vegas Delano, Las Vegas – Palms Hotel, Las Vegas – Caesars, Las Vegas – Caesars Temple Tower, Atlantic City – Harrah's Resort Atlantic City, Resorts World, Las Vegas – Cannery Hotel & Casino, Las Vegas – Harrah's Atrium Tower, Atlantic City – California Hotel, Las Vegas – Par-A-Dice Hotel, Peoria – Caesars Ocean Tower, Atlantic City – Paragon Casino Resort, Marksville – Belterra Casino Resort Marksville – Greektown Casino Hotel, Detroit – Harrah's North Kansas City – Marriott Overland Park, Kansas City – Fremont Hotel, Las Vegas – Il Verdi Restaurant, Atlantic City – Carmel Mission Inn Carmel – Ocean Casino Resort Atlantic City – Crown Plaza Hotel Houston – Texas – Thunder Valley Hotel Napa – California – Cosmopolitan Hotel, Las Vegas – Little Nell, Aspen – Ballys Atlantic City – Cannery Hotel, Las Vegas – Ondori Restaurant, Las Vegas – Alder & Birch Restaurant, Las Vegas – Caesars Temple Tower, Atlantic City – Union Station Hotel, Nashville – Double Tree Hotel, New Orleans – Stations Hotel, Las Vegas – Rouge Hotel, Washington DC – Hilton Grand Vacation, Park City – Indigo Hotel, El Paso – Tin Lizard Lounge, Kansas City – LAX Hilton, Los Angeles ……